Top 4 Reasons to Get KTM BENCH ECU Programmer:

1. No Limits of the car model and year + No Need disassemble ECUs Read and write Bosch ECUs (Infineon's chips) incl. flash and eeprom.
2. Less Risk to clone/copy ECUs Able to modify data or do chip tuning to achieve superior performance.
3. Much Cheaper, compared with the same functional tools, price is 1/10 of other programming tools in the market.
4. Software Version: V1.20
Notice:
1. Please never connect to internet to update or device will get locked.
2. Stock in UK are with version V1.1.99, please select in Version when place order online. 
KTM BENCH Features:
 
Cover BMW N20, N55, N63, etc. to change or read/write ISN codes (done with other tools)
Cover Bentley MED17.1.1 to read/write immo data
Cover the latest Jaguar MED17.8.32
Cover VW MED17.5.5, MED17.5.22, MED17.5.25
...
ALL can be done without ECU disassembling Good equipment of high quality and with the best technology
Professional service and good efficiency
KTM BENCH ECU Connection Picture: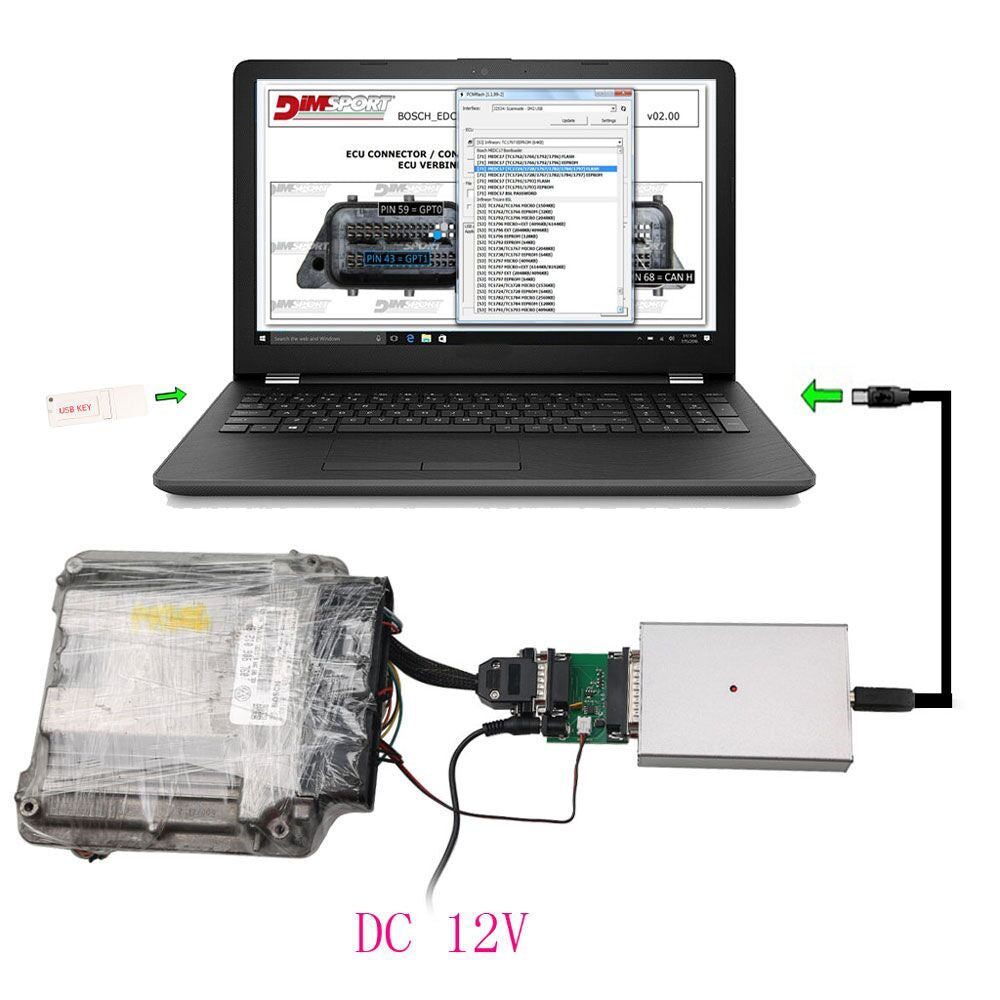 KTM BENCH ECU Software Display: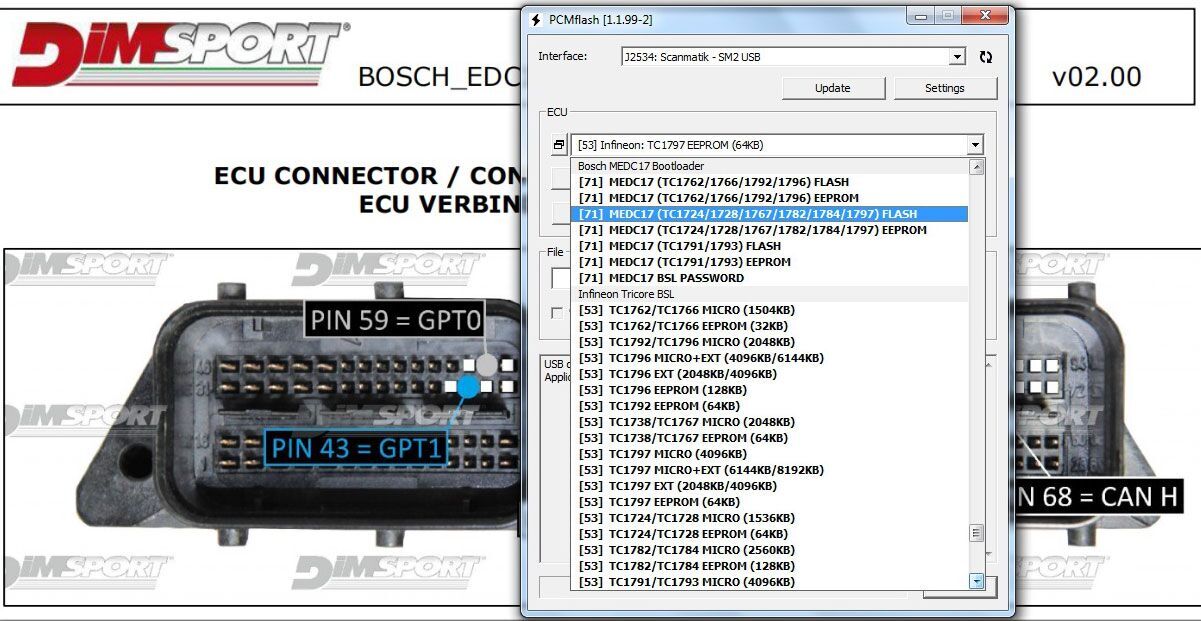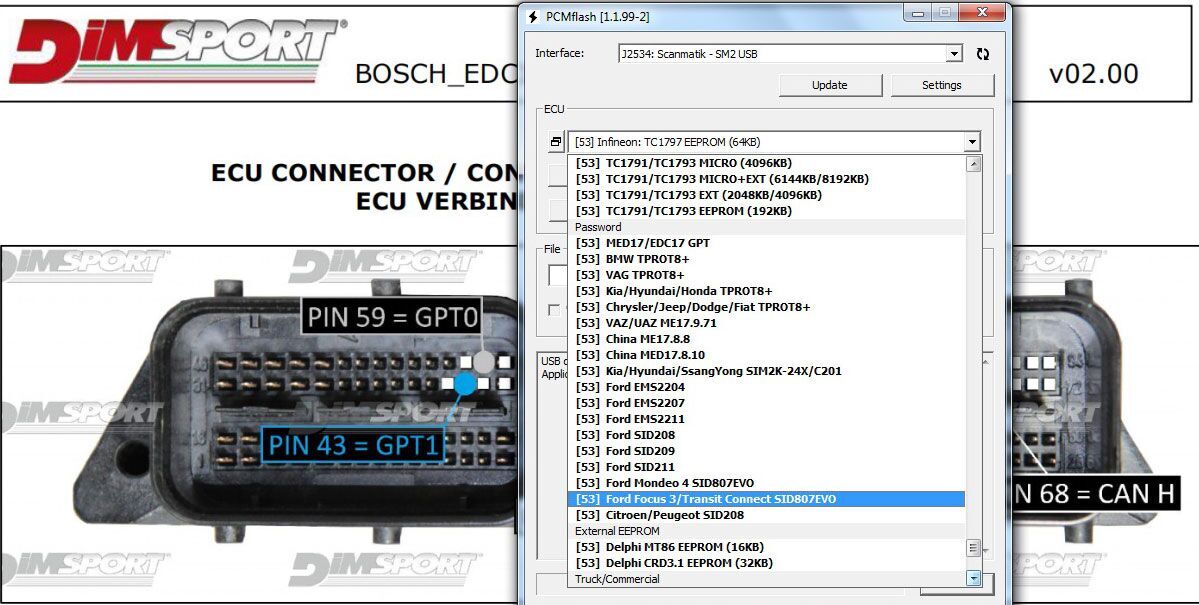 What is differences between KTMBENCH ,KTMFLASH and KTMO
BD?
KTM Bench Boot is the latest ECU programming tool for ECU read and write via Boot mode or on bench.
KTMFlash ECU programmer can read the chip data, read & write ECU data. read transmission data etc. at a high speed.
KTMOBD programmer was born for reading chip data, reading and writing data of ECUs and a few types of gearbox. Read/write data by OBD.Supports most Japanese cars
ECU programming tool

KTM BEHCH

KTMOBD

KTM FLASH

Language

English,Russian

English,Russian

English,Russian

Run

USB dongle and  software

USB Dongle and software

USB Dongle and software

Operating system

Window XP;
Windows 7;
Windows 10;

Window XP;
Windows 7;
Windows 10;

Window XP;
Windows 7;
Windows 10;

Speed

High

High

High

Risk

Less risk

Less risk

Risky

Method

via Boot on Bench (no need to open the cover)

via OBD

Most ECUs need to be disassembled for r/w

ECU disassemble

NO

NO

Most yes!

ECU read/write

Yes

Yes

Yes

Gearbox or transmission read/write

NO

Yes, only a few

Yes

Chip read/write

NO

Yes

Yes
KTM Bench Add the ECU Wiring Diagram 2020:
BOSCH_EDC17CP14_XROM_TC1796_EGPT_VAG
BOSCH_EDC17C47_IROM_TC1782_EGPT_TOYOTA
BOSCH_EDC17C55_IROM_TC1767_EGPT_ALL_BRAND
BOSCH_EDC17CP10_IROM_TC1796_EGPT_MEB
BOSCH_EDC17CP11_XROM_TC1796_EGPT_JAGUAR_LR
BOSCH_EDC17CP19_IROM_TC1766_EGPT_RENAULT
BOSCH_EDC17CP20_IROM_TC1796_EGPT_VAG
BOSCH_EDC17CP27_IROM_TC1796_EGPT_JEEP
BOSCH_EDC17CP42_IROM_TC1797_EGPT_ALL_BRAND
BOSCH_EDC17CP44_IROM_TC1797_EGPT_VAG
BOSCH_EDC17CP46_IROM_TC1797_EGPT_MERCEDES
BOSCH_EDC17CP47_IROM_TC1797_EGPT_OPEL
BOSCH_EDC17CP54_XROM_TC1793_EGPT_VAG
BOSCH_EDC17CP58_IROM_TC1767_EGPT_RENAULT
BOSCH_EDC17CP74_IROM_TC1793_EGPT_VAG
BOSCH_EDC17U01_IROM_TC1766_EGPT_VAG
BOSCH_EDC17U05_XROM_TC1796_EGPT_VAG
BOSCH_M17.8.7_IROM_TC1762_EGPT_POLARIS
BOSCH_M17.8.42_IROM_TC1762_EGPT_KTM
BOSCH_ME17.5.6_IROM_TC1767_EGPT_VAG
BOSCH_ME17.8.5_IROM_TC1762_EGPT_ROTAX
BOSCH_ME17.9.6_IROM_TC1767_EGPT_SUZUKI
BOSCH_ME17.9.11_IROM_TC1762_EGPT_KIA_HYUNDAI
BOSCH_ME17.9.20_IROM_TC1782_EGPT_RENAULT
BOSCH_ME17.9.21_IROM_TC1724_EGPT_DUCATI
BOSCH_ME17.9.21_IROM_TC1724_EGPT_HYUNDAI_KIA
BOSCH_ME17.9.21_IROM_TC1724_EGPT_KTM
BOSCH_ME17.9.23_IROM_TC1724_EGPT_RENAUL
BOSCH_ME17.9.51_IROM_TC1762_EGPT_SUZUKI
BOSCH_ME17.9.52_IROM_TC1782_EGPT_TOYOTA
BOSCH_ME17.9.53_IROM_TC1782_EGPT_TOYOTA
BOSCH_ME17.9.61_IROM_TC1724_EGPT_SUZUKI
BOSCH_ME17.9.64_IROM_TC1724_EGPT_SUZUKI
BOSCH_ME17.9.74_IROM_TC1762_EGPT_POLARIS
BOSCH_MED17.1.1_IROM_TC1796_EGPT_VAG
BOSCH_MED17.1.1_IROM_TC1797_EGPT_VAG
BOSCH_MED17.1.6_IROM_TC1797_EGPT_VAG
BOSCH_MED17.1.10_IROM_TC1793_EGPT_VAG
BOSCH_MED17.1.11_IROM_TC1797_EGPT_PORSCHE
BOSCH_MED17.1.21_IROM_TC1793_EGPT_VAG
BOSCH_MED17.1.27_IROM_TC1793_EGPT_VAG
BOSCH_MED17.1.62_IROM_TC1793_EGPT_VAG
BOSCH_MED17.3.4_IROM_TC1797_EGPT_MASERATI
BOSCH_MED17.3.5_IROM_TC1793_EGPT_FCA
BOSCH_MED17.3_IROM_TC1766_EGPT_FAL
BOSCH_MED17.5.2_IROM_TC1767_EGPT_VAG
BOSCH_MED17.5.5_IROM_TC1766_EGPT_VAG
BOSCH_MED17.5.1_XROM_TC1796_EGPT_VAG
BOSCH_MED17.5.20_IROM_TC1766_EGPT_VAG
BOSCH_MED17.5.21_IROM_TC1782_EGPT_VAG
BOSCH_MED17.7.2_IROM_TC1797_EGPT_MERCEDES
BOSCH_MED17.7.3_IROM_TC1797_EGPT_MERCEDES
BOSCH_MED17.7.5_IROM_TC1793_EGPT_MERCEDES
BOSCH_MED17.8.31_IROM_TC1797_EGPT_ASTONMARTIN
BOSCH_MED17.9.3_IROM_TC1793_EGPT_HONDA
BOSCH_MED17.9.7_IROM_TC1767_EGPT_JAGUAR
BOSCH_MED17.9.9_IROM_TC1793_EGPT_JAGUAR
BOSCH_MEDV172_IROM_TC1766_EGPT_MINI
BOSCH_MEVD17.2_IROM_TC1797_EGPT_BMW
BOSCH_MEVD17.4.4_IROM_TC1793_EGPT_PSA
BOSCH_ME17.8.8_IROM_TC1728_BAIC China
BOSCH_ME17.8.8_IROM_TC1767_MG China
BOSCH_MED17.8.10_IROM_TC1728_GEELY China
CONTINENTAL_EMS2204_2207_2211_IROM_TC1738_FORD
CONTINENTAL_SID208_IROM_TC1797_SSM_PSA 
CONTINENTAL_SIM2K_241_IROM_TC1738_HYUANDAI_KIA
CONTINENTAL_SIM2K_241_IROM_TC1767_HYUNDAI_KIA
Read and write an ECU in two ways: BOOT and Bench
R/W an ECU via BOOT:
Infineon: TC1762/TC1766 MICRO (1504KB) (permanent)
Infineon: TC1762/TC1766 EEPROM (32KB) (permanent)
Infineon: TC1792/TC1796 MICRO (2048KB) (permanent)
Infineon: TC1796 MICRO+EXT (4096KB/6144KB) (permanent)
Infineon: TC1796 EXT (2048KB/4096KB) (permanent)
Infineon: TC1796 EEPROM (128KB) (permanent)
Infineon: TC1792 EEPROM (64KB) (permanent)
Infineon: TC1738/TC1767 MICRO (2048KB) (permanent)
Infineon: TC1738/TC1767 EEPROM (64KB) (permanent)
Infineon: TC1797 MICRO (4096KB) (permanent)
Infineon: TC1797 MICRO+EXT (6144KB/8192KB) (permanent)
Infineon: TC1797 EXT (2048KB/4096KB) (permanent)
Infineon: TC1797 EEPROM (64KB) (permanent)
Infineon: TC1724/TC1728 MICRO (1536KB) (permanent)
Infineon: TC1724/TC1728 EEPROM (64KB) (permanent)
Infineon: TC1782/TC1784 MICRO (2560KB) (permanent)
Infineon: TC1782/TC1784 EEPROM (128KB) (permanent)
Infineon: TC1793/TC1798 MICRO (4096KB) (permanent)
Infineon: TC1793/TC1798 MICRO+EXT (6144KB/8192KB) (permanent)
Infineon: TC1793/TC1798 EXT (2048KB/4096KB) (permanent)
Infineon: TC1793/TC1798 EEPROM (192KB) (permanent)
Bosch: BMW/MB/VAG GPT (permanent)
Bosch: Ford/Opel/Volvo GPT (permanent)
Bosch: BMW TPROT8+ (permanent)
Bosch: VAG TPROT8+ (permanent)
Bosch: Kia/Hyundai/Honda TPROT8+ (permanent)
Bosch: Chrysler/Jeep/Dodge/Fiat TPROT8+ [Test] (permanent)
Bosch: VAZ/UAZ ME17.9.71 (permanent)
Bosch: China ME17.8.8 (permanent)
Continental: Kia/Hyundai/SsangYong SIM2K-24X/C201 (permanent)
Continental: Ford EMS2204 (permanent)
Continental: Ford EMS2207 (permanent)
Continental: Ford EMS2211 (permanent)
Continental: Ford SID208 (permanent)
Continental: Ford SID209 (permanent)
Continental: Ford Mondeo 4 SID807EVO (permanent)
Continental: Ford Focus 3/Transit Connect SID807EVO (permanent)
Continental: Citroen/Peugeot SID208 (permanent)
Kia/Hyundai: Delphi MT86 EEPROM (16KB) (permanent)
Mercedes-Benz: Delphi CRD3.1 EEPROM (32KB) (permanent)
R/W an ECU on BENCH (without disassembling an ECU)
ECUs covered:
BOSCH_MED17.1.62_IROM_TC1793_EGPT_VAG
BOSCH_EDC17C60_IROM_TC1793_EGPT_PSA
BOSCH ME17.5.26 TC1724 VAG e-GPT
BOSCH_EDC17CP57_IROM_TC1793_EGPT_MERCEDES
BOSCH_EDC17C69_IROM_TC1793_EGPT_FCA
BOSCH_EDC17CP04_IROM_TC1796_EGPT_VAG
BOSCH_EDC17CP14_XROM_TC1796_EGPT_VAG
BOSCH_EDC17C19_IROM_TC1792_EGPT_OPEL
BOSCH_EDC17CP02_IROM_TC1766_EGPT_BMW
BOSCH_EDC17CP10_XROM_TC1796_EGPT_MEB
BOSCH_EDC17CP09_XROM_TC1796_EGPT_BMW
BOSCH_EDC17CP01_IROM_TC1796_EGPT_MEB
BOSCH_EDC17CP22_XROM_TC1796_EGPT_VOLVO
BOSCH_EDC17CP24_XROM_TC1796_EGPT_VAG
BOSCH_EDC17C08_IROM_TC1766_EGPT_KIA_HYUNDAI
BOSCH_EDC17CP20_XROM_TC1796_EGPT_VAG
BOSCH_EDC17CP07_IROM_TC1766_EGPT_TOYOTA 
BOSCH_MEDV174_IROM_TC1766_EGPT_PSA
BOSCH_EDC17CP05_XROM_TC1796_EGPT_FORD
BOSCH_MEDV174_XROM_TC1796_EGPT_PSA
BOSCH_MEVD17.2_IROM_TC1797_EGPT_BMW
BOSCH_MED17.1_XROM_TC1796_EGPT_VAG
BOSCH_EDC17C10_IROM_TC1797_EGPT_PSA
BOSCH_EDC17CP45_IROM_TC1797_EGPT_BMW
BOSCH_EDC17CP10_XROM_TC1796_EGPT_MEB
BOSCH_EDC17CV52_IROM_TC1797_EGPT_DEUTZ
BOSCH_EDC17C18_IROM_TC1766_EGPT_OPEL
BOSCH_EDC17C10_IROM_TC1797_EGPT_FORD
BOSCH_MED17.1.1_IROM_TC1796_EGPT_VAG
BOSCH_EDC17C46_IROM_TC1767_EGPT_VAG
BOSCH_ME17.9.11_IROM_TC1762_EGPT_KIA_HYUNDAI
BOSCH_EDC17CP52_IROM_TC1797_EGPT_ALL_BRAND
BOSCH_EDC17C08_IROM_TC1766_EGPT_PIAGGIO
BOSCH_MED17.1.1_IROM_TC1797_EGPT_VAG
BOSCH_EDC17C42_IROM_TC1767_EGPT_NISSAN
BOSCH_EDC17CP22_XROM_TC1796_EGPT_VOLVO
BOSCH_EDC17CV54_IROM_TC1767_EGPT_ALLBRAND
KEFICO_MEG17.9.12_IROM_TC1762_EGPT_KIA
BOSCH_EDC17CV54_IROM_TC1767_EGPT_ALLBRAND
BOSCH_ME172_BMSX_IROM_TC1797_EGPT_BMW_MOTORRAD
BOSCH_EDC17C53_IROM_TC1767_EGPT_MAHINDRA
BOSCH_EDC17C55_IROM_TC1767_EGPT_MAHINDRAV
BOSCH_EDC17C49_IROM_TC1797_EGPT_ALL_BRAND
BOSCH_ME17.7.8_TC1797_EGPT_IROM_MEB
BOSCH_ME17.9.21_IROM_TC1724_EGPT_KTM
BOSCH_EDC17CP14_IROM_TC1796_EGPT_HYUNDAI_KIA
BOSCH_EDC17C53_IROM_TC1767_EGPT_MAHINDRA
BOSCH_EDC17CV54_IROM_TC1767_EGPT_ALLBRAND
BOSCH_MED17.0.1_IROM_TC1767_EGPT_FORD
BOSCH_E86_IROM_TC1797_EGPT_CHEVROLET_GMC
BOSCH_EDC17CV42_IROM_TC1797_EGPT
BOSCH_EDC17CV41_IROM_TC1797_EGPT_ALLBRAND
BOSCH ME17.3.0 TC1724 EGPT FAL
BOSCH_MED17.3.3_IROM_TC1793_EGPT_FAL
BOSCH_EDC17C53_IROM_TC1767_EGPT_SAME 
BOSCH_MED17.1.61_IROM_TC1793_EGPT_VAG
BOSCH_EDC17CP14_XROM_TC1796_EGPT_VAG
BOSCH_EDC17C41_IROM_TC1797_EGPT_BMW
BOSCH_E86_XROM_TC1796_EGPT_CHEVROLET_GMC
BOSCH_EDC17C50_IROM_TC1797_EGPT_BMW
BOSCH_EDC17C56_IROM_TC1797_EGPT_BMW
BOSCH_EDC17CP49_IROM_TC1797_EGPT_BMW
BOSCH_ME17.9.74_IROM_TC1762_EGPT_POLARIS
BOSCH_EDC17C64_IROM_TC1797_EGPT_VAG
BOSCH_MEVD172G_IROM_TC1797_EGPT_BMW
BOSCH_MEVD1728_IROM_TC1797_EGPT_BMW
BOSCH_EDC17CP48_IROM_TC1797_EGPT_VOLVO
BOSCH_EDC17C57_IROM_TC1793_EGPT_KIA_HYUNDAI
BOSCH_MED17.8.31_IROM_TC1797_EGPT_JAGUAR_LR
BOSCH_EDC17C59_IROM_TC1767_EGPT_OPEL
BOSCH_MED17.5.2_IROM_TC1767_EGPT_VAG
BOSCH_MED17.5.21_IROM_TC1782_EGPT_VAG
BOSCH_MED17.5.5_IROM_TC1767_EGPT_VAG
BOSCH_ME17.5.24_IROM_TC1724_EGPT_VAG
BOSCH_ME17.2.4.2_BMSO_IROM_TC1793_EGPT_BMW_MOTORRAD
BOSCH_EDC17C74_IROM_TC1793_EGPT_VAG
BOSCH_ME17.8.3_IROM_TC1797_EGPT_MCLAREN
BOSCH_MED17.3.4_IROM_TC1797_EGPT_MASERATI
BOSCH_EDC17C66_IROM_TC1793_EGPT_MERCEDES
BOSCH_MED17.7.5_IROM_TC1793_EGPT_MERCEDES
BOSCH_MED17.5.5_IROM_TC1766_EGPT_VAG
BOSCH_EDC17CP14_XROM_TC1796_EGPT_VAG
BOSCH_EDC17CP47_IROM_TC1797_EGPT_OPEL
BOSCH_MEVD17.2.3_IROM_TC1793_EGPT_BMW_MINI
BOSCH_MED17.1_IROM_TC1796_EGPT_VAG
BOSCH_EDC17C84_IROM_TC1782_EGPT_NISSAN
BOSCH_MED17.5.25_IROM_TC1782_EGPT_VAG
BOSCH_MED17.8.31_IROM_TC1797_EGPT_ASTONMARTIN 
BOSCH_MED17.4.4_IROM_TC1793_EGPT_PSA
BOSCH_EDC17CP68_IROM_TC1797_EGPT_VOLVO
BOSCH_ME17.9.21_IROM_TC1724_EGPT_DUCATI
BOSCH_EDC17C73_IROM_TC1793_EGPT_TOYOTA
BOSCH_ME17.5.6_IROM_TC1767_EGPT_VAG
BOSCH_ME17.1.1_IROM_TC1796_EGPT_VAG
BOSCH_MED17.1.11_IROM_TC1797_EGPT_PORSCHE
BOSCH_MED17.1.21_IROM_TC1793_EGPT_VAG
BOSCH_EDC17CP50_IROM_TC1797_EGPT_HONDA
BOSCH_MED17.9.3_IROM_TC1793_EGPT_HONDA
BOSCH_EDC17C79_IROM_TC1797_EGPT_FCA
BOSCH_MED17.3.5_IROM_TC1793_EGPT_FCA
BOSCH_MED17.9.7_IROM_TC1767_EGPT_JAGUAR_LRV
BOSCH_EDC17CV42_IROM_TC1797_EGPT_MAN
BOSCH_MEDC17.9_IROM_TC1793_EGPT_JAGUAR_LR
BOSCH_EDC17CP55_IROM_TC1793_EGPT_JAGUAR
BOSCH_EDC17CP62_IROM_TC1793_EGPT_KIA_HYUNDAI
BOSCH_EDC17C70_IROM_TC1793_EGPT_FORD
BOSCH_EDC17C53_IROM_TC1767_EGPT_KIA_HYUNDA
BOSCH_MED17.2_IROM_TC1767_EGPT_FORD
BOSCH_MED17.1.27_IROM_TC1793_EGPT_VAG
BOSCH_MED17.9.63_IROM_TC1793_EGPT_SUZUKI
BOSCH_EDC17C49_IROM_TC1797_EGPT_ALL_BRAND
BOSCH_EDC17C76_IROM_TC1793_EGPT_BMW
BOSCH_ME17.5.20_IROM_TC1767_EGPT_VAG
BOSCH_EDC17C54_IROM_TC1797_EGPT_VAG
BOSCH_EDC17C53_IROM_TC1767_EGPT_MAHINDRA
BOSCH_EDC17CP65_IROM_TC1793_EGPT_FORD
BOSCH_EDC17C69_IROM_TC1793_EGPT_FCA
BOSCH_ME17.9.64_IROM_TC1724_EGPT_SUZUKI
BOSCH_ME17.9.52_IROM_TC1782_EGPT_TOYOTA
BOSCH_ME17.9.71_IROM_TC1724_EGPT_PSA
BOSCH_ME17.9.23_IROM_TC1724_EGPT
BOSCH_ME17.7_XROM_TC1796_EGPT_MEB
BOSCH_MED17.1.10_IROM_TC1793_EGPT_VAG
BOSCH_ME17.9.71_IROM_TC1724_EGPT_PSA
BOSCH ME17.5.22 TC1724 VAG e-GPT
BOSCH_EDC17CP05_IROM_TC1797_EGPT_FORD
BOSCH_ME17.2.4_BMSMP_IROM_TC1793_EGPT_BMW_MOTORRAD
BOSCH_MED17.0.7_IROM_TC1782_EGPT_FORD
BOSCH_MEVD1784_IROM_TC1797_EGPT_BMW
BOSCH_EDC17C83_IROM_TC1793_EGPT_ISUZU
BOSCH_MED17.8.32_IROM_TC1793_EGPT_JAGUAR_LR
BOSCH_MED17.7.7_IROM_TC1793_EGPT_MEB
BOSCH_ME17.9.53_IROM_TC1782_EGPT_TOYOTA
BOSCH_ME17.8.33_IROM_TC1793_MCLAREN
---
We Also Recommend